Atlanta was a bit of a lark. I hadn't seen my friends for a while, and they were telling me that the weather was beautiful. So why not go?
Anyway, Chuck Close is on display at the High Museum. And the thing about Close's work is that it frustrates my rule of "don't do twice what you can automate once." Many of his portraits are the result of carefully mapped and measured graph lines that allow him to create pixelated works. I want to use computers to do this, but he used a ruler and paper. Nonetheless, many of his works — like his early self portrait at the top this story — are truly stunning.
Rather more interesting to me was Roger Ballen's "Shadow Chamber" show at the ACA Gallery. It's not often that you can call a work of photography Surrealist, but, well, you might not have seen Ballen's work. From the brochure:
Ballen uses the assumed objectivity of his camera to explore the subjective world of dreams, nightmares, and calculated chaos. He is at the height of his powers as a director, and each picture is architecturally rigorous, tonally stunning, and emotionally saturated.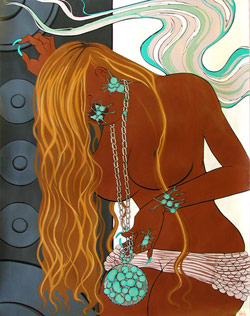 Later, after some low-art/high-fun times at Whole World Theater, we stopped by Troy's studio at Saltworks, where a collection of Iona Rozeal Brown's provocative and fetishistic work was showing.