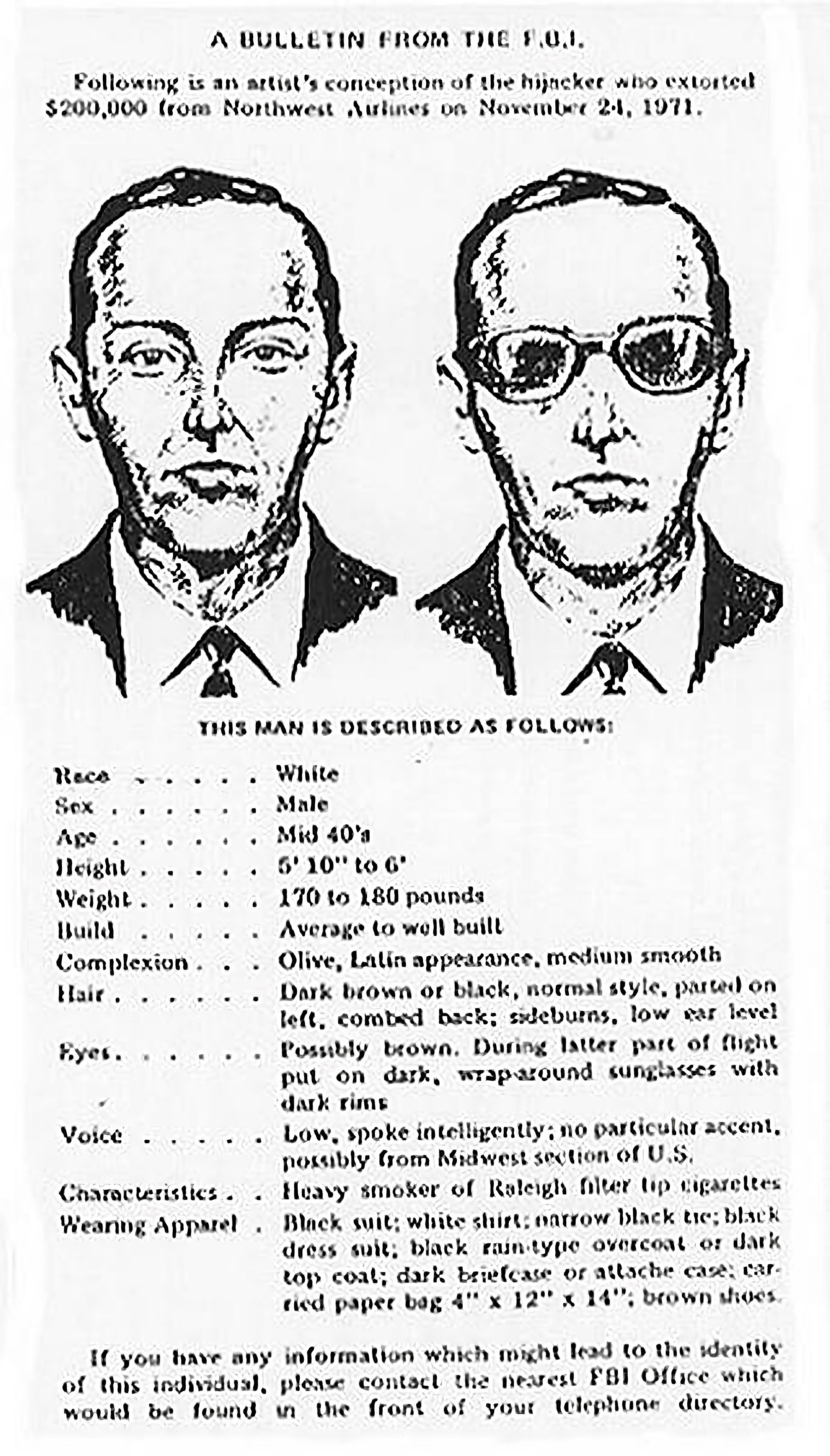 D. B. Cooper, the guy who hijacked a plane in 1971 and then — mid-flight — jumped into the darkness with a bundle of cash and disappeared, is celebrated on this day, the Saturday following Thanksgiving. Granted, this is mostly just a thing in Ariel Washington, where it's said to have started in 1974, but the participants are pretty passionate about it.
As Steve Mandich says, "with his wraparound shades, skinny tie and no-nonsense expression, Cooper comes across as one cool customer." Cool enough for comic books, anyway. Definitely cool enough for stencil art, according to annievix and Stanmason. And cool enough for nearly 40 years of festivals in Ariel Washington.
And now this is where I get sucked into the mystery. I find it odd that none of the theories described in the Wikipedia article include the man hiding in the plane and escaping on the ground in Reno Nevada. In 2007 the FBI disclosed that the reserve parachute Cooper supposedly used for his jump was "an unusable unit with an inoperative ripcord intended for classroom demonstrations, despite the fact that it had clear markings identifying it to any experienced skydiver as non-functional."
The FBI, it seems, is convinced the man who appears to have meticulously planned every detail jumped into a rainy night with a non-functional trainer chute, rather than tossed it out the back and hid elsewhere in the plane. I suppose it would be very embarrassing for the FBI to admit that it's possible a man that looks like The Matrix's Agent Smith could have walked right past them once the plane was on the ground.

Update 2020: The Ariel General Store & Tavern that had hosted the party for decades closed in 2015, not that actually gathering would be a recommended pandemic activity.