The myth of an RV is that you can go anywhere and bed down wherever you end up. The reality is that you can't go just anywhere, and bedding down is not much more comfortable or convenient than tenting.
This is all based on my experience with a rented, class-C RV that a friend and I drove from Fresno to Pheonix at a super discount because the rental agency wanted the RV moved between those locations. The detail that I rented the RV is important because I think it affects two out of the three primary factors I'm considering here: maneuverability, comfort, and cost.
Where you can go
Driving an RV is slow, but they make up for it by being unmaneuverable. You can't go down some roads, or stop everywhere you want, and you can't get anywhere quickly.
Being in an RV means you can't follow bendy roads to remote trailheads or go into bustling cities. You end up in the middle.
Granted, my definition of a city is a bit coastal elite (San Francisco or NYC), but even in car-friendly cities you'll have trouble finding a place to park an RV while visiting a museum, for example.
On this scale, smaller is better. But smaller vehicles fade from RVs to #vanlife and offer very different amenities and comforts.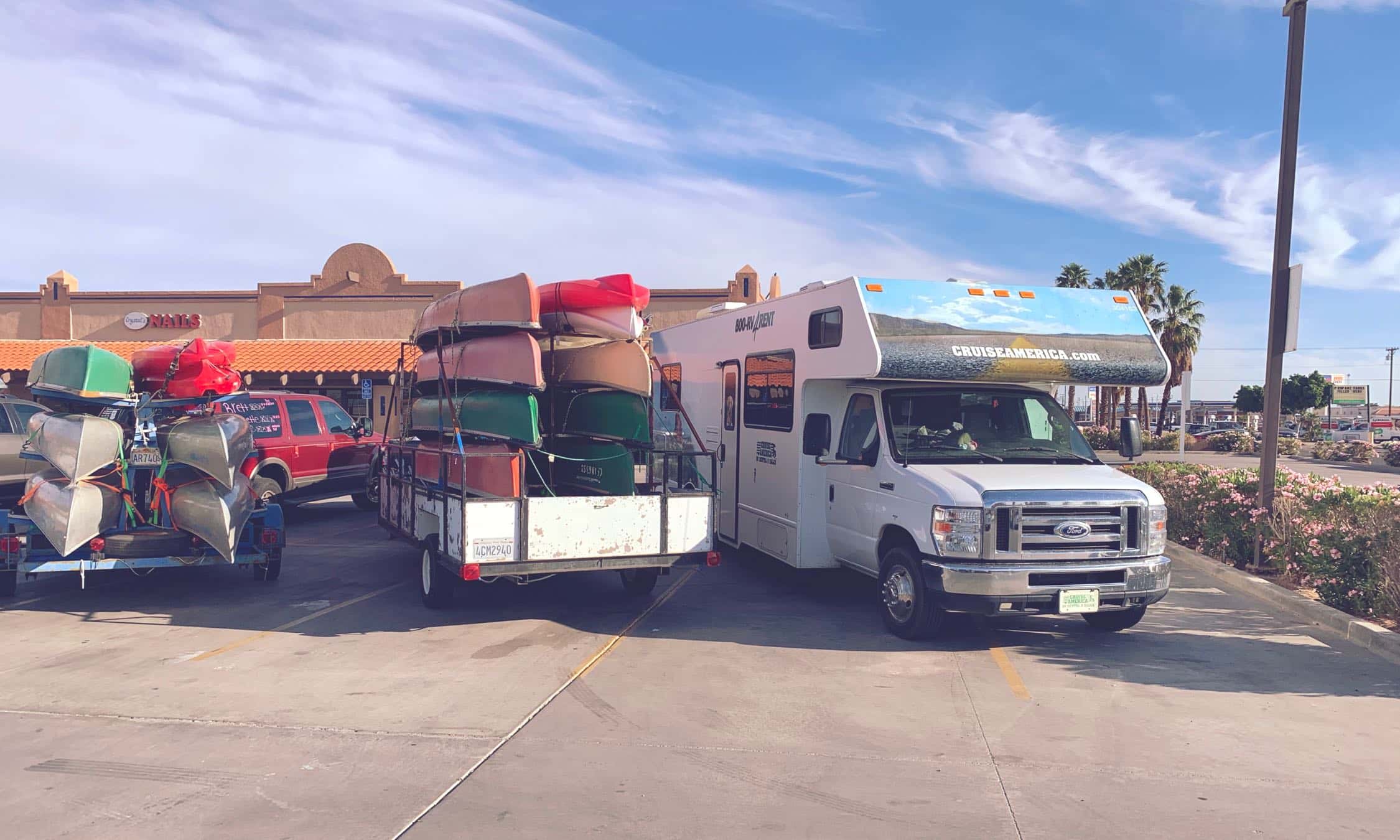 Comfort
No matter how large the RV, it's still cramped and slightly claustrophobic. You might enjoy camping and dream of being in the great outdoors, but a mainstream RV—the kind you can rent—isn't scaled up camping, it's scaled down apartment or hotel life.
Owning your own RV might alleviate a number of frustrations. My rented RV didn't have an awning or folding chairs that would make the world just outside the camper far more enjoyable. And inside the RV we didn't have a full compliment of kitchen tools and pantry items that would make meal preparation both enjoyable and tasty. In short, it was like my college apartment, but now I'm judging it the way my parents judged my college apartment.
The bathroom and shower are almost full-size. The primary beds, those in the bedroom at the back of the RV and above the cab, are large and reasonably comfortable. All told, those features aren't bad, but in a rented RV they're only about as comfortable as a cheap hotel room.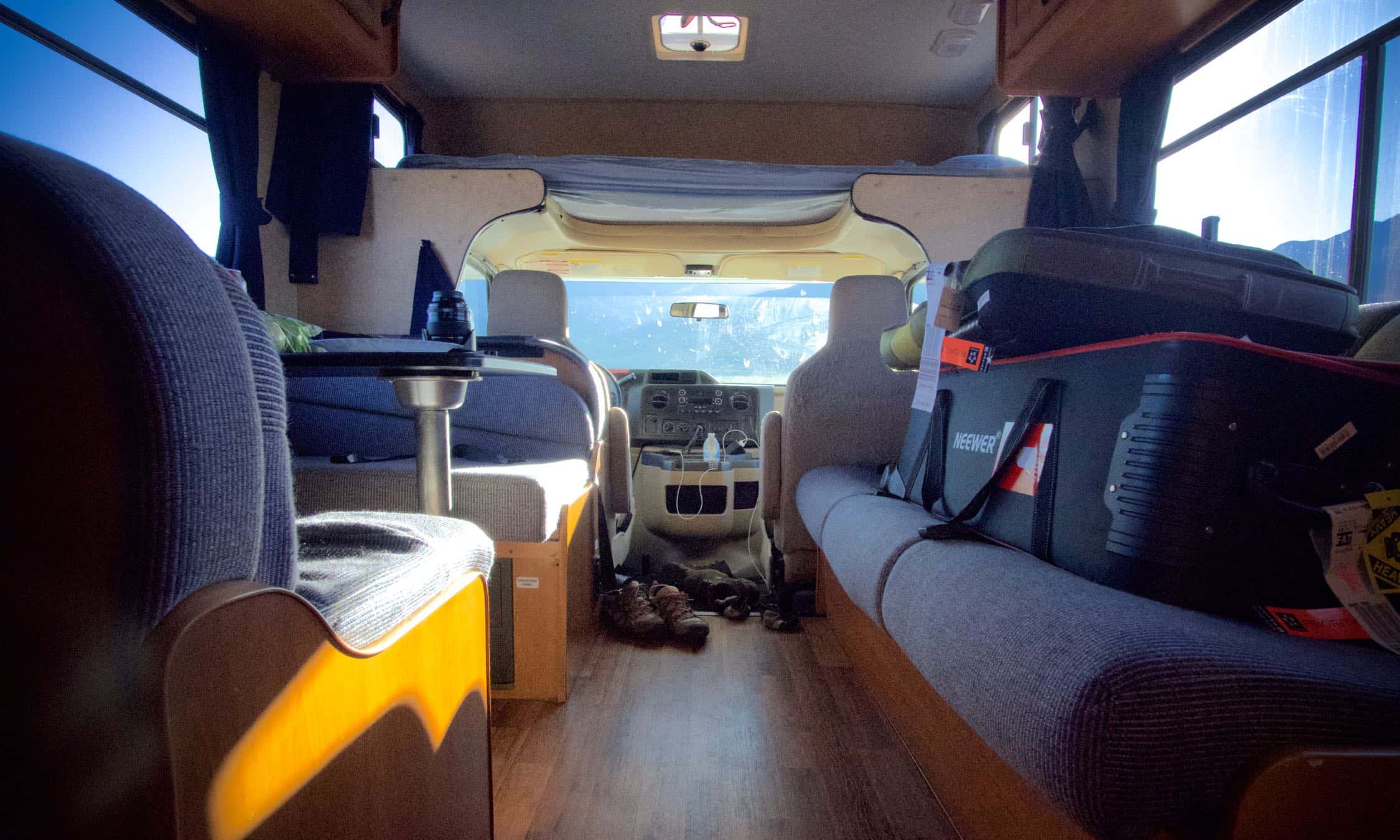 Cost
On the one hand, renting an RV means you don't have to get hotel rooms. On the other hand, it's more expensive than hotel rooms.
The numbers are below, but my experience was that hotel rooms were available near to pretty much everywhere I wanted to go. If a hotel wasn't available, I'd also strongly consider camping and a combination of camping and hotel stays for a road trip.
In general, here are the classes of costs to consider:
RV rental fees: the normal rate is $99/night + some fixed fees, but I was paying less than that.
Equipping and provisioning: this includes re-usable items like bedding and kitchen tools, as well as food and pantry items. Because we were flying into the location, we had to plan to purchase or rent these instead of re-using household provisions.
Gas: the RV gets about 8-9 miles per gallon (compared to 25-35 MPG for a typical sedan), making gas the single most expensive line item for this road trip.
Site fees, dump fees: many RV sites provide power, water, and sewer, but some of the best RV experiences are boondocking without access to those utilities. Expect to pay site fees (sometimes even when boondocking), and also plan for dump fees.
Generator hours: the rental agency charges $3.50/hour for usage (that's in addition to the gas used).
Propane: the refrigerator, water heater, and room heater all run on propane. This was a tiny part of my costs, but it's still a factor.
Mileage: the RV rental fees include some miles, but expect to pay more.
Drop fees/one-way fees: this is an extra charge for returning the RV to a different facility than the origin. This can be waived if the rental agency is trying to reposition vehicles, but you'll pay extra otherwise.
Below is the actual budget we paid for the RV trip from Fresno to Phoenix, compared with an estimated budget for a car rental that covered similar locations (but which originated from and returned to Las Vegas).
| Item | RV | Car + Hotel |
| --- | --- | --- |
| Rental | $200 ($700, including drop fee, if not discounted) | $200 |
| Hotel | $0 | $500 |
| Gas | $500 | $200 |
| Provisions | $400 | $100 |
| Dump fees, campgrounds, propane | $100 | $0 or n/a |
| Mileage and generator time | $70 | $0 or n/a |
| Total | $1,270 ($1,770 if not discounted) | $1,000 |
Owning the RV could substantially change a lot of these costs. The RV and most of the equipment would be amortized over multiple trips, for example.
At the end of our trip, we donated the unused food and reusable equipment to charity, so hopefully we made somebody happy with those.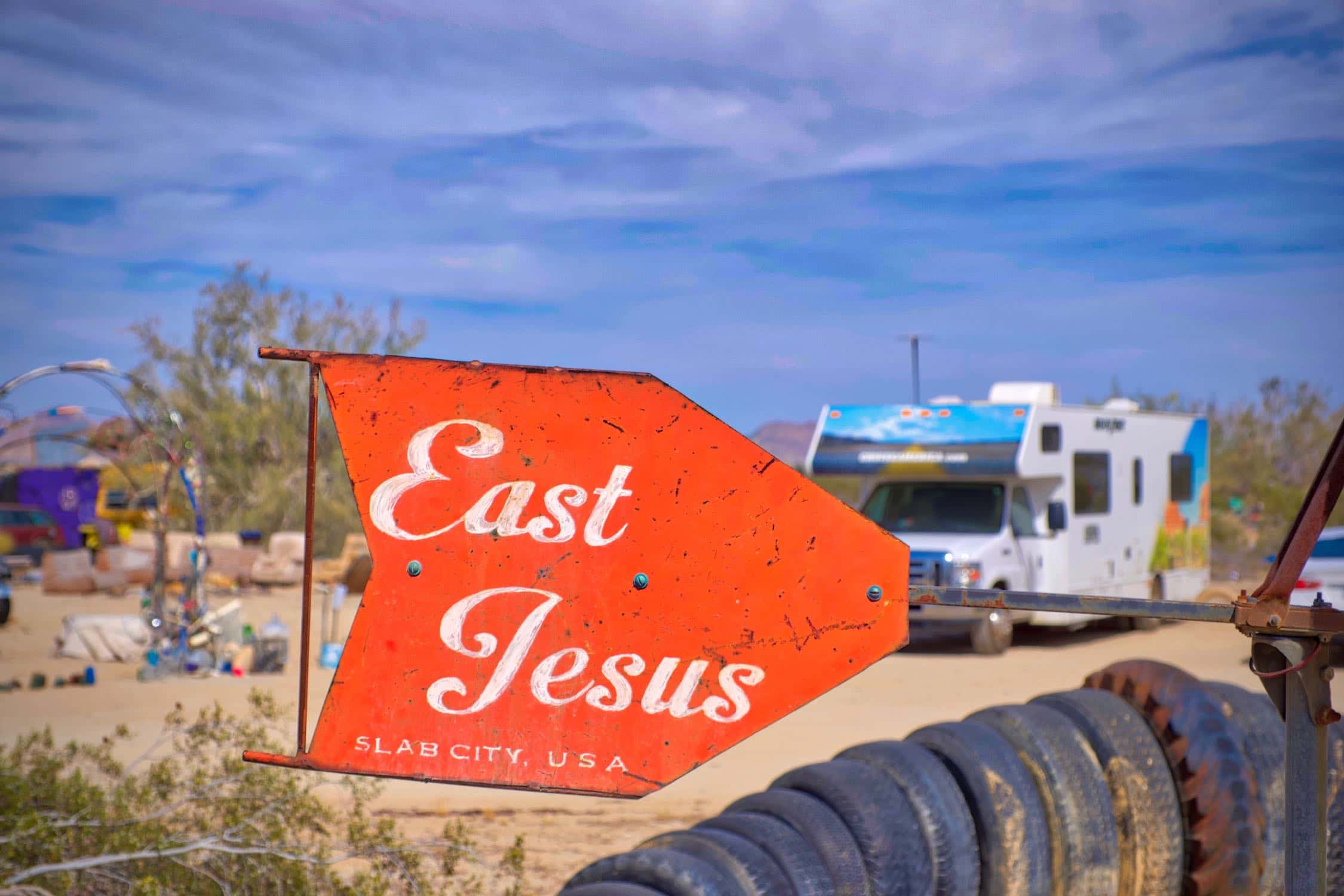 The point
My point here is that I'll probably rent a car for my next road trip, rather than an RV. That doesn't mean I hate RVs, and I certainly recognize that many people really enjoy them.
As noted: owning the RV probably makes a big difference in many of these factors. Despite my criticism of RV rentals, I'd still consider RV ownership as a way to escape into the wilderness.