It's doubtful that anybody reading this blog missed the news that Apple finally took the wraps off their much rumored tablet: the iPad. Trouble is, a bunch of folks seem to be upset about the features and specs, or something that made the buzz machine go meh. It's just a bigger iPhone, complain the privileged tech pundits.
They apparently missed the recent Pew Internet Project report on internet usage by demographic. While it shows white users most frequently access the internet from home, black and hispanic users more frequently get online from mobile devices. Further, internet use by hispanics jumped dramatically in recent years, far exceeding the growth among whites.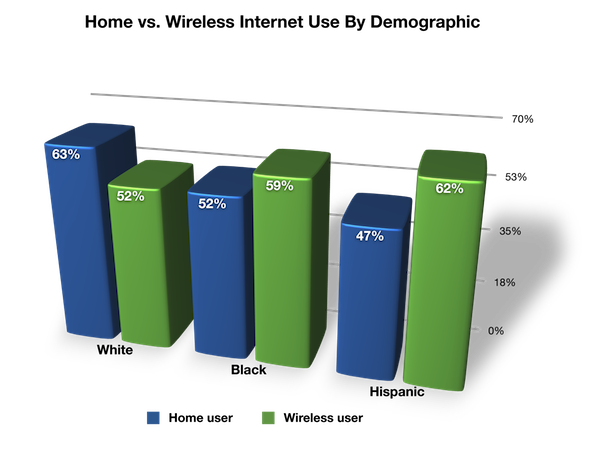 The report further notes that while 83% of US adults have cell phones, only 60% use the internet from home. I've said it before: our notions of what a "computer" is have to change. The age of ubiquitous connectivity, Twitter, Facebook, and uncounted other tiny miracles has already changed the the reasons we use technology and shown us the difference between what it's for and what it does.
The Pew stats show our computers as historical artifacts of a different age, built for a different purpose. The iPad is built for the ubiquitous social internet. The iPad is built for everybody who enjoys mobile internet access and the remaining 40% of users who don't have any, though I'm quite certain that experienced internet users will eventually fall in love with the device too. Remember, the then leading tech news site Slashdot panned the original iPod in 2001: "No wireless. Less space than a Nomad. Lame."
You might have to check Wikipedia to remember what the Nomad was today, though the manufacturer once enjoyed 65% market share. The market for MP3 players in 2001 was just under $2 billion, by 2006 it had tripled to almost $6 billion. iPod sales continued to grow, much to the annoyance  of iPod haters, until Apple released the iPhone and started cannibalizing their traditional iPod sales. Convergence had finally arrived.
Apple's plan with the iPad is to dramatically expand the market for internet connected devices. Do you really want to bet against them?