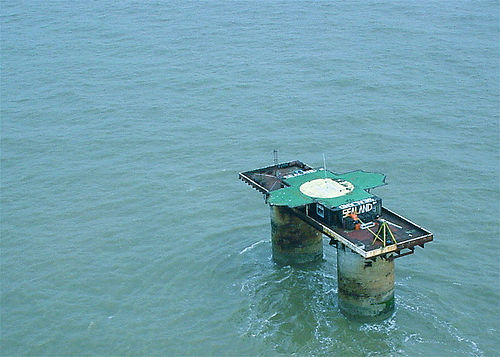 A comment from TroublePup alerted me that the Principality of Sealand burned Friday.
The Evening Star explained:
Witnesses watched in amazement as a huge plume of smoke started to rise from one of the legs of Sealand — and boats raced to the scene.

Seafront worker Bruce Harrison said: "It was quite spectacular. The amount of smoke was huge and people kept saying there must have been an explosion.
Flickr user amarkfell caught the scene on camera, while Evening Star Felixstowe editor Richard Cornwell watched the events unfold from the clifftops in Hamilton Gardens:
"At first there was not much smoke at all, but it quickly grew into a huge thick black plume which then drifted northwards for several miles."

"…it was definitely Sealand […we] could see flames shooting out of the left-hand pillar of the fort."
An update to the story from late Saturday night included an official response from Sealand's Royal Family. Michael Bates, son of Sealand's Prince and Princess Roy and June Bates, "pledged to rebuild its 'country' — and to repair all the damage caused by the fire which devastated half of the independent kingdom."
The fire apparently started in the generator room in one of the former gun platform's 70-foot legs. One resident, a crewman for (what remains of) HavenCo, suffered injuries due to smoke inhalation.